Byron Bay, the easternmost point on the Australian mainland, is located in the far north of New South Wales. An hour flight from Sydney to Ballina, followed by a half hour drive north takes you to this idyllic coastal town, known for its stunning scenery, backpacker-friendly culture, vibrant arts and music scene, and of course its world-famous surfing. Click to read more and watch my video showing you Byron Bay surfing spots (and see me surf, aka. kook on a pop-out).
There are many surfing spots in Byron, catering to all levels. Tallows Beach, exposed to the open sea beneath the famous Cape Byron Lighthouse, is good for experienced surfers only. Belongil and Main Beaches are good, sandy bottom beach breaks and are separated by the Wreck, which is just as it sounds, a shipwreck with rusty metal exposures that warrant caution.
But the most famous surf spots are the point breaks (what's a point break?) at Wategos and The Pass/Clarke's Beach. Waters is a dream spot, with gorgeous homes owned by the rich and famous. The waters are crystal clear and it's common to see dolphins swimming alongside surfers and riding waves, too.
The Pass connects with Clarke's Beach, and Main Beach beyond, and is quite possibly the best place to learn how to surf for beginners, especially those who are "regular-footed" (i.e., left foot forward on your board). It's got a sandy bottom, with only a few visible rocks. The waves are forgiving and go on for ages. It's possible to catch 30-second rides here on a single wave, even for a relative novice.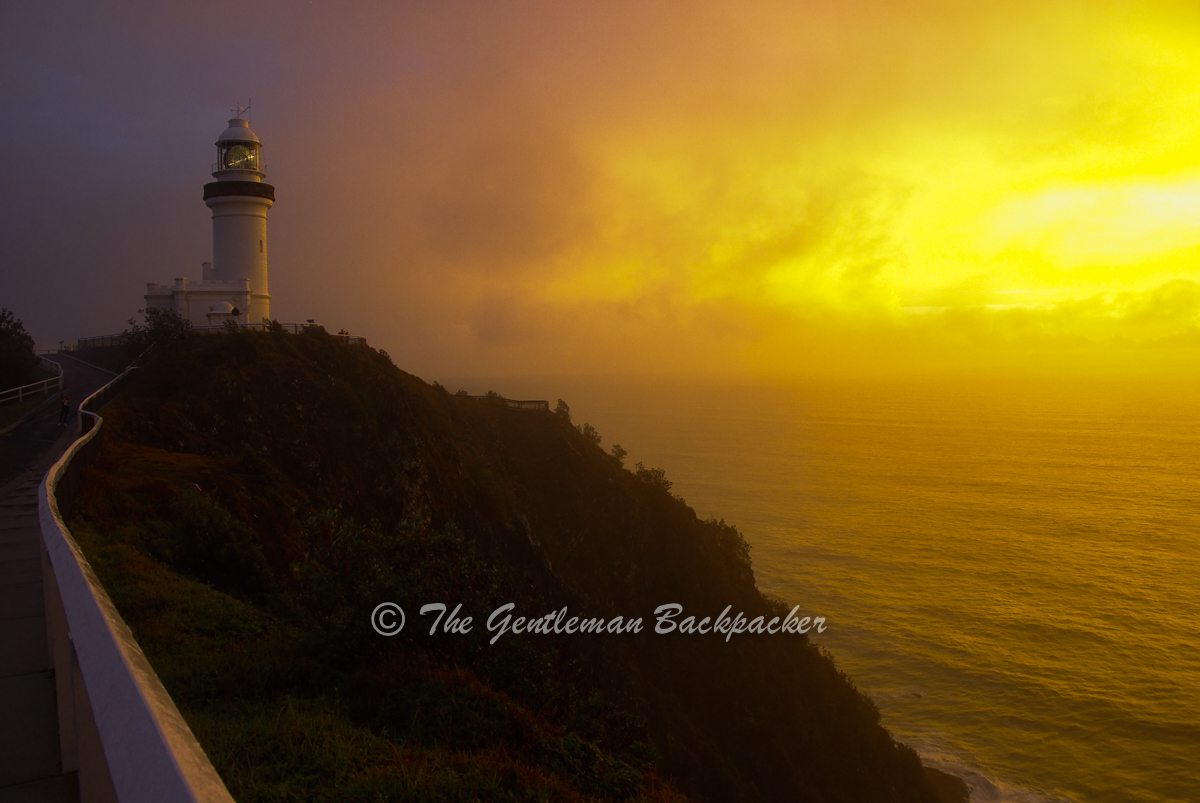 When I first arrived in Byron Bay, I only intended to stay there for 3 days before my friend's wedding in Sydney. After the wedding was over, I went back to Byron and ended up staying for 5 weeks! I was hooked. I rented an apartment across the street from Clarke's Beach and every morning I would wake up, walk across the street, surf 'til lunch, cook a healthy meal, nap a couple of hours and avoid the mid-day sun, then go back out for a late afternoon/sunset paddle.
I had just left a stressful job and sitting out there surfing in this picture perfect bay, watching the sunsets and the occasional dolphins, catching a wave and running my hands along that smooth, glassy face of the wave as the sunshine reflected off the water– surfing is both intense and relaxing, and extremely therapeutic. You feel free and connected to nature. And I made some great friends out on the water as well. At the same time, I got in the best shape of my life. The excess fat melted off over the course of a month (Hello abs!), even in spite of my best efforts to go out in town in the evenings to the bars (The Rails is a great spot to kick off your night with live music and some local Stone and Wood Pacific ale) and indulging in almost nightly beers and barbecue.
If you're thinking about finally learning how to surf properly (not just a one-day splash on your beach holiday, but truly properly), I cannot think of any better place than Byron Bay. If you're looking to learn from a surf school or rent a board for your time there, I highly recommend Style Surfing, who do daily lessons and will pick you up from your hotel, hostel, etc. Gary (Gaz) Morgan is a terrific teacher who has been surfing locally in Byron for many years. He's also a wonderful human being. My first day in Byron, under storm conditions, he turned down my money and drove me for free to all the different spots to show me how much the surf was crap and the riptides were dangerous. He did this while other schools were taking out beginners who were struggling out there and not having any fun. Tell him George from The Gentleman Backpacker sent you and he'll take good care of you, but if you use my name, please do me a favor and treat him with respect.
If you spend a couple of weeks in Byron Bay surfing, you'll improve rapidly. And here's the video, as promised, of me surfing the famous Pass. Please subscribe to our YouTube channel as well. And read more about Byron Bay here with these posts:
Thanks for reading this post! If you liked it please think about subscribing by following this link Subscribe here. You will receive an email when new articles are posted. Your email address will be secure and you will never receive any marketing emails from third parties. Every new subscriber matters since this is a relatively young site. We really appreciate your support.
FOLLOW US