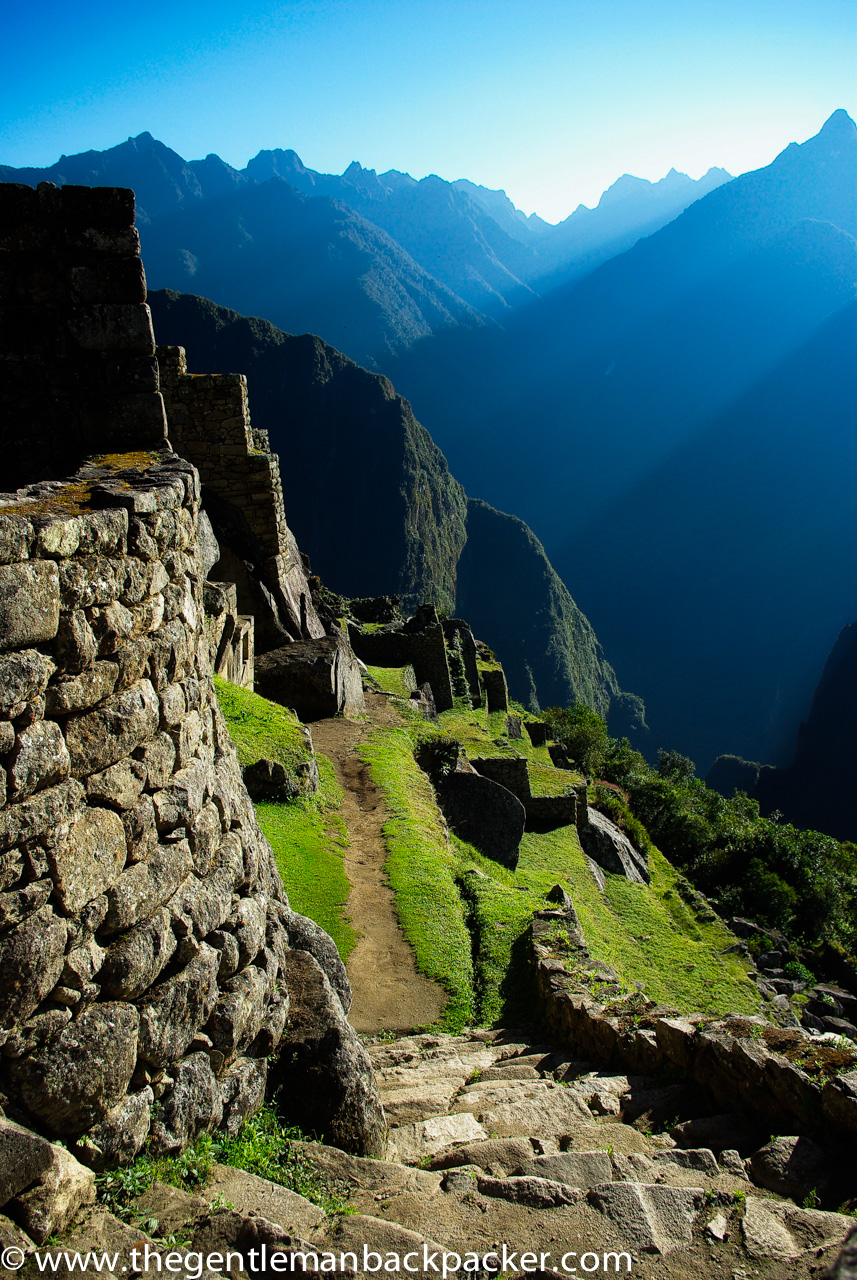 Summary:
-See sunrise at Machu Picchu and avoid the crowds
-Don't worry if the train from Cusco to Machu Picchu is fully booked- take a car part way
-Book your Huayna Picchu climb for 10am
-If you have extra days, spend them in Cusco or around the Sacred Valley
-Follow us on Instagram this week @thegentlemanbackpacker and submit your best Peru photos using #gentlemanbackpacker_peru to enter our photography contest and be featured on our feed and on this website.
One of the things I learned from my 14-country Round-the-World trip in 2008 was to be efficient. This was true whether it came to packing or travel planning. I can now plan a nice 3-day weekend in Buenos Aires, for example. Sometimes, you just can't spend as much time in a country as you would like. But that doesn't mean you shouldn't go at all. The Sacred Valley of Peru, a popular destination that usually begins in Cusco and reaches its climax at Machu Picchu, now one of the New Seven Wonders of the World, can be done in a variety of ways.
The famous Inca Trail is extremely popular with backpackers and college students. On my way back from Machu Picchu, I shared a train booth with some young ladies from the University of Florida, who apologized (unnecessarily) for the fact they hadn't showered in 5 days and, upon hearing I lived in Tokyo, knew about and longed for the use of a Japanese washlet, given their time spent "roughing it with a leaf and a shovel." But there I was, determined to go to Machu Picchu on a trip where I was also going to the Galapagos to cruise around by boat, visit museums in Spain and attend the opera in Vienna, oh and cruise the Nile in Egypt as well; I couldn't lug around the appropriate equipment for camping in the mountains. So, after some careful and annoying planning, I came up with an itinerary that ticked all the boxes I wanted to tick, but was doable in just 4 days. Read on to find out how.
First I want to say that this plan won't be for everybody. If you're a bit older, you may want a bit more time to acclimate yourself to the higher altitudes. If you want the full camping and trekking experience, by all means, sign up for an Inca Trail tour. But if you only had a week off work and always wanted to go to Machu Picchu, but thought you'd need at least two weeks' holiday, well, you thought wrong. And it is more reasonable than you think.
At this point, I want to tell you ONE THING ABOVE ALL ELSE: YOU MUST GO TO MACHU PICCHU FOR SUNRISE. I cannot emphasize this enough. If you don't, in my opinion, you're missing out (I know others will argue that not doing the Inca Trail first to experience the journey leading to the destination is missing out, and I'm not going to dispute that). Going to Machu Picchu for sunrise requires staying the night before in Aguas Calientes (formerly Machu Picchu Pueblo), which is the "armpit" of Peru; it has no redeeming qualities. But your reward is getting into the sanctuary before sunrise with just a couple of hundred other visitors, climbing up by the famous Watchman's Hut, and taking in the classic postcard views while the beams of sunlight slowly move down and illuminate the valley as the early morning fog burns off. In a word, it is "magical." And then you will still have several hours to wander around the ruins before the "day-trippers" arrive on the train around 11am. This means you will find patches of solitude where you can feel "alone in the universe," and take in the spirituality of the place without noisy tour groups around every corner.  It also means you are almost guaranteed access to Huayna Picchu, the famous mountain located immediately behind the city in all those photographs. Only 400 people per day are allowed to climb it, and if you go the day trip route, it's not an option. If none of this matters to you, you can actually compress your itinerary into 3 days by not staying in Aguas Calientes. Oh, the return trains are at 3pm for the day-trippers. That means you are leaving the site around 1:30pm. Are you really going to travel half way around the world (or more) to stay there for just 2.5 hours while also squeezing in lunch amidst the Times Square-esque crowds?
Day One: Arrival in Cusco and exploration of the town
There's a wealth of good information out there from Lonely Planet or Frommer's or Fodor's or whomever you like to use for this sort of thing, but Cusco is full of beautiful streets, museums, and plazas. If you'd like some of my own recommendations, let me know and I can make a separate post about that. However, your center of gravity will likely be found at the picturesque Plaza de Armas and spread out from there. Take your time and walk slowly. Cusco is 11,000 feet (3,400m) above sea level, i.e., a little over two "Denvers." It's the 2-mile-high-city. I ran around the city visiting every cathedral and museum I could, had a couple of Cusquenas with dinner and lay down to sleep that night to discover I had a mild headache; it seemed odd to me, but it took me a few minutes to realize altitude was playing a part. I was young and in good shape at the time, but it still affected me. Cusco is beautiful. If you're going to do this itinerary in a more relaxed way, this is where I'd add another day or two.
Day Two: Morning in Cusco, afternoon in Pisac, late afternoon train to Aguas Calientes
You've got great news. Peru Rail seems to have improved their website. In 2008, when I booked with them, I had the most ridiculous time going back and forth with faxes and lack of availability, etc., for several days. Their website was terrible and the information on there was never correct. I had to go to the train station on day one to pick up my tickets in person for the next day (the will call window closed well before my afternoon departure time). I haven't gone all the way through to the point of purchase on the current website, but it's already miles and miles better than what it used to be. So you're in luck!
There are TWO main routes you can take. The first is from Cusco all the way to Machu Picchu (Aguas Calientes). The second is from Ollantaytambo in the Sacred Valley to Machu Picchu. I took the latter because alas, the first route books up fairly quickly and so nothing was available. If this happens to you, do not despair, as this turned out to be a blessing in disguise once again. I booked my train ticket for Ollantaytambo to Machu Picchu on a return basis. Then I hired a local car and driver to drive me from Cusco to Ollantaytambo (and the return journey the next day; cost was less than $200-may have even been closer to $100).
I spent my morning visiting more of the museums in Cusco, and then the driver and I set off just after noon. The winded mountain roads reminded me very much of the Canadian Rockies in parts, except for the fact I had to keep telling myself that the elevation of where we were in the valley was about where the peaks of the Rockies are, and that those peaks around me were 15,000 ft+. Just incredible! We stopped at a great little spot along the way for a delicious meal of stew and maize, and the benefits of having a local driver came through here. We made a stop at the ruins at Pisac, which were a great way to learn more about the architecture and design elements of Inca construction (after studying them beforehand at the Museo Inka in Cusco). We continued on our journey to Ollantaytambo, where I took the late afternoon train to Aguas Calientes and watched the setting sun over the snow-capped peaks as the train trundled along beside beautiful rivers and forests and arrived just after dark.
At this point, you've got another choice to make. To stay in town or inside the sanctuary. There is one, and only one lodge contained within the boundaries of Machu Picchu Sanctuary. It is extremely expensive. Consensus at the time that I went was that it was not worth the splurge because the hotel was run like the monopoly it was, and thus you were paying for location more than luxury. It has since changed management, and the photos of the rooms look a whole lot nicer than what they were back then. Is it now worth it? I haven't tried it so I am not in a position to say. I think a valid question to ask yourself when reading positive reviews is, "How much of this review is positive about Machu Picchu itself vs. the hotel itself?"  If money is no object to you, by all means stay. I was traveling alone; I could have afforded it, but opted to save the several hundred dollars for something else. If you're going on a romantic trip with your significant other and you don't mind splurging, absolutely go for it. I did eat lunch at the restaurant there the next day; at the time it was lodge-style communal bench seating (think ski lodge cafeteria) and it was perfectly adequate and good for conversation.
I opted to stay in town. "Town" is what you'd expect for these sorts of areas that cater to only one area of interest. It's a hodgepodge mix of backpacker bars with live bands and cheap beers, a mediocre market, and some overpriced restaurants. There is nothing wrong with these things per se, it's just that it can be executed so much better than it is here. It's not charming. At all. The same sorts of things exist in central Cusco, for example, but the setting is beautiful, and there are more options. Aguas Calientes is expensive, noisy, and not very attractive. So, I picked a place near the bus depot, in went the earplugs and I went to bed early, excited with anticipation for the next morning.
Day Three: Magic
"BZZZZZZZZZZZZZ!!!!" That's the sound of your way-too-early alarm clock going off. Now get to the bus depot stat, so that you don't miss the pre-dawn buses up to the sanctuary. You're waking up at 3am? Someone else will already be in line ahead of you, but so long as you aren't cutting it close to the last minute (get there by 4~430 and to be safe), you should be one of the lucky ones to catch the buses. And then you enter the park at 6am and watch the magic unfolds as the sun rises over the peaks of the Cloud Forest.
Your next reward for waking up early is now the fact that you and something less than 399 of your traveling companions have the entire city complex to yourselves until the day-trippers arrive. So, go explore and find your own little piece of Inca magic.
Your last reward is a chance to climb Huayna Picchu, that famous mountain in the backdrop of all the Machu Picchu postcards you see.  There's a 730am entry for 200 people and 10am entry for 200 people. When I went, you had to go line up to get in at the allotted time. Now, you actually have to purchase a ticket in advance for your time, so it costs a bit more, but you don't have to stand around for an hour to get in at your desired time anymore and thus have more time to explore. They tell you it takes 1.5-2 hours to climb, and one hour to come back down. I can tell you it took me 45 minutes to get up, but that was at a brisk pace and using hands to hustle up. An hour and a half sounds about right if you are taking your time.
The way down is the hard part, especially if you go to the very top rock for a picture. You begin your descent with a slide on your butt down a rock face, onto the path below, and then walk down centuries-old, stone Inca steps for the first portion of your descent (it's a one way path that goes up, and then another takes you down). Next to you is nothing–for a few thousand feet to the valley floor. The steps are actually a lot wider than you think. It would be like walking through a normal, slightly narrow doorway. But the psychological effect of having nothing but cliff on your right-hand side makes it feel like those steps are tiny. If you are afraid of heights, don't climb Huayna Picchu! So, if you can and you want to go, book the 10am time and get all your exploring done between sunrise and 10am. By the time you come down from the mountain, the place will be crawling with tour groups and day-trippers from all over the world. And you'll think fondly of your magical time "alone" on the mountain earlier on.
Next, grab lunch at the Lodge, and then head down for the train again in Aguas Calientes. This time, on my return to Ollantaytambo, I spent some time walking around those ruins and the fair there. Ollantaytambo is beautiful: etched into the hillside, and the markets are vibrant. It's worthy of spending a few hours (as is Pisac). Finally, I got in my car, ready to take me back to Cusco, when I encountered a young couple, abandoned at the train station. They had thought their train was to go back to Cusco. So I gave them a free lift in my car. They turned out to also be half Japanese, half American, and they'd gone to international school in Tokyo. They were on a 6-month trip together and had spent time in the Peruvian Amazon. Total coincidence! Traveling is one coincidence after another, and good karma built up will be returned to you at other times.
Day Four: Return
Catch your next flight to wherever it is you need to go. In my case, I flew north to Quito, Ecuador, giddy with excitement in anticipation of my trip to the Galapagos.
Oh, and if you read this far, you must be keen on Peru. Please check out @thegentlemanbackpacker on Instagram and submit your best Peru photos using #gentlemanbackpacker_peru. Best photos submitted will get a mention here later this week. I'm extending the deadline to Friday night, Oct 10 at 11:59PM, Pacific time. Good luck and thank you!
Thanks for reading this post! If you liked it please think about subscribing by following this link Subscribe here. You will receive an email when new articles are posted. Your email address will be secure and you will never receive any marketing emails from third parties. Every new subscriber matters since this is a relatively young site. We really appreciate your support.
FOLLOW US